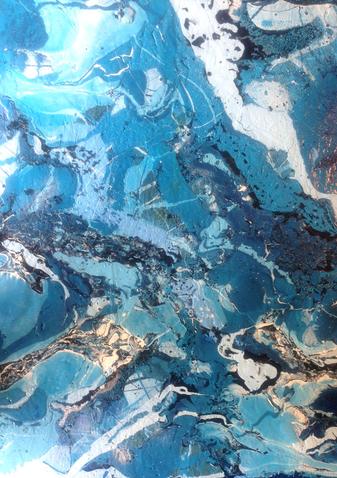 New York's Metropolis Gallery will host Resurface: the Art of Jonas Raider, the painter's inaugural show, opening Friday, June 17 at 6 pm and running through July 1. The exhibit will showcase 30 of Jonas Raider's vivid abstract paintings.
Raider works in acrylic, oil and spray paint, applied directly on wood. "Jonas' work is powerful and also emotional," notes Curator Vincent Zurzolo, COO and Curator of Metropolis Gallery. "It's taken me years to coax him to hold this show."
Raider, who was raised on Rockaway Beach and now lives in rural Maryland, says his goal as an artist is to capture "euphoria, fear, love, darkness…and everything in between. I throw my guts, my mind, my pain and my happiness into my work," he says. "It makes me feel less alone. And hopefully, when you see it, it will spark a response in you." His first inspiration was watching his father -- also an accomplished artist -- work, seeing his paintings take shape on a blank canvas.
Raider's work will be available for sale at introductory pricing of $1,000-$5,000. "Jonas' star is rising," says Zurzolo. "This is a rare opportunity for collectors."

Metropolis Gallery is the offshoot of Metropolis Collectibles, the world's largest vintage comic collectibles dealer. It is located at 36 West 37th Street, 6th Floor, New York, NY 10018. The gallery is open Monday-Friday, 11-5 through July 1st. The public is invited to view Raider's work.